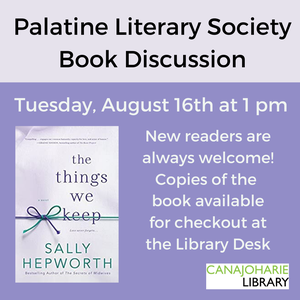 2 Erie Blvd. Canajoharie
Tuesday, Aug. 16, 1 pm
This season The Palatine Literary Society book discussion will be The Things We Kept by Sally Hepworth.
New readers are always welcome!
Copies of the book available for check out at the Library Desk.
The meeting will take place in the Great Hall.

For questions please email canlib@mvls.info or call 518-673-2314.