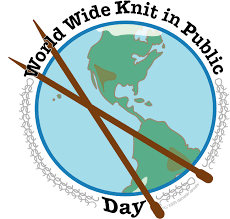 Southbridge Common, Mechanic Street, Southbridge
Saturday, Jun. 12, 10 am - 2 pm
On Saturday June 12 from 10am to 2 pm, local knitters will celebrate World Wide Knit in Public Day at the Southbridge Common on Mechanic St in Southbridge. Organized by the Knitting With Sonya group, sponsored by the Jacob Edwards Library, knitters (and crocheters) can gather together in the gazebo, masked and socially distanced. This day has been celebrated since 2005, and the Library group has been part of it for several years. Anyone can participate- just come to the Common with a chair, mask and your needlework. The town has granted a permit and the public bathrooms at Southbridge Police Station will be available. There is no fee for this event.

World Wide Knit in Public Day was started in 2005 by Danielle Landes and takes place on the second Saturday of June each year. It began as a way for knitters to come together and enjoy each other's company. Knit in Public Day is the largest knitter run event in the world. Each local event is put together by a volunteer or a group of volunteers. They bring their own fresh ideas into planning where the event should be held, and what people would like to do.

In the past some people have used this event as a means to show the general public how diverse those who knit are. Knit in Public Day is about showing the general public that knitting can be a community activity in a very distinct way. In some places there are many different knitting groups that never interact with each other, except on Knit in Public Day when they come together in one place, making them hard to miss. Over the years there have been local events in Australia, China, England, Finland, France, Ireland, Norway, Poland, Slovenia, South Africa, Sweden, United States, and Germany.

Sponsored by Jacob Edwards Library.