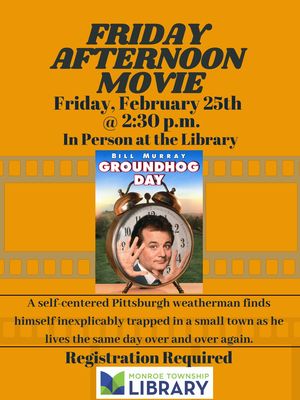 Program Room
Friday, Feb. 25, 2:30 pm
Registration required, begins Feb 1.
Each month we will screen a different modern, classic movie. This program will be held in-person at the Library.

This month's movie- Groundhog Day- A self-centered Pittsburgh weatherman finds himself inexplicably trapped in a small town as he lives the same day over and over again.


*Registration is required. Register in advance at the Welcome Desk, on our website at www.monroetwplibrary.org/calendar or by phone at (732) 521-5000.