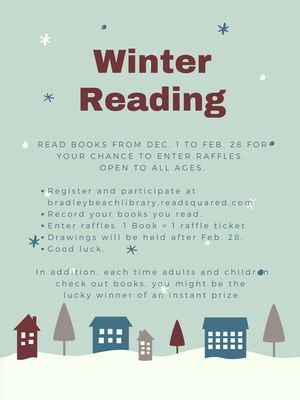 Bradley Beach Public Library
Wednesday, Feb. 8,
Read books from Dec. 1 to Feb. 28 for your chance to enter raffles.
OPEN TO ALL AGES.
Register and participate at bradleybeachlibrary.readsquared.com.
Record your books you read.
Enter raffles. 1 Book = 1 raffle ticket
Drawings will be held after Feb. 28.
Good luck.
In addition, each time adults and children check out books, you might be the lucky winner of an instant prize.
-
Lea libros del 1 de diciembre al 28 de febrero para tener la oportunidad de participar en rifas.
ABIERTO A TODAS LAS EDADES.
Regístrese y participe en bradleybeachlibrary.readsquared.com.
Registre los libros que lee.
Participa en rifas. 1 libro = 1 boleto de rifa
Los sorteos se realizarán después del 28 de febrero.
Además, cada vez que los adultos y los niños saquen libros, usted podría ser el afortunado ganador de un premio instantáneo.