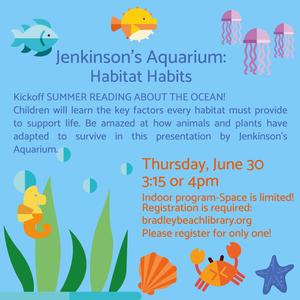 Bradley Beach Public Library
Thursday, Jun. 30, 3:15pm
Thursday, June 30, 3:15 & 4:00pm
In a kickoff for Summer Reading about the Ocean, children will learn the key factors every habitat must provide to support life. Be amazed at how animals and plants have adapted to survive in their specific habitats with this presentation by Jenkinson's Aquarium. This is an indoor program, and space is limited. Registration is required at bradleybeachlibrary.org. The 3:15 and the 4:00pm are the same; please register for one.
-
En un inicio de Lectura de verano sobre el océano, los niños aprenderán los factores clave que cada hábitat debe proporcionar para sustentar la vida. Sorpréndase de cómo los animales y las plantas se han adaptado para sobrevivir en sus hábitats específicos con esta presentación del Acuario de Jenkinson. Este es un programa de interior, y el espacio es limitado. Es necesario registrarse en bradleybeachlibrary.org. Las 3:15 y las 4:00 son las mismas; por favor regístrese para uno.