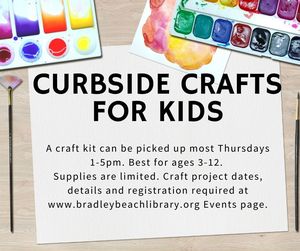 Bradley Beach Public Library
Thursday, Jul. 29, 1-7p
Shark teeth, snorkel gear, and a secret message in a bottle! Complete activities in this pick-up kit. Check out books from the library to round out the fun.
Supplies are limited. Craft project details and registration required at www.bradleybeachlibrary.org Events page.
-
¡Dientes de tiburón, equipo de snorkel y un mensaje secreto en una botella! Actividades completas en este kit de recogida. Saque libros de la biblioteca para completar la diversión.Los suministros son limitados. Se requiere registro y detalles del proyecto de artesanía en www.bradleybeachlibrary.org Página de eventos.