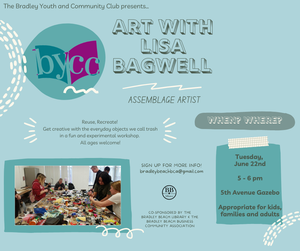 Bradley Beach Public Library
Tuesday, Jun. 22, 5-6pm
The Bradley Youth and Community Club presents…
Art with Lisa Bagwell
ASSEMBLAGE ARTIST Reuse, Recreate! Get creative with the everyday objects we call trash in a fun and experimental workshop. All ages welcome!
Tuesday, June 22nd 5 - 6 pm 5th Avenue Gazebo Appropriate for kids, families and adults CO-SPONSORED BY THE BRADLEY BEACH LIBRARY & THE BRADLEY BEACH BUSINESS COMMUNITY ASSOCIATION
SIGN UP FOR MORE INFO! bradleybeachbca@gmail.com
-
El Bradley Youth and Community Club presentan ...
arte con Lisa Bagwell
¡Reutiliza, recrea! Séa creativo con los objetos cotidianos que llamamos basura en un taller divertido y experimental. ¡Todas las edades son bienvenidas!
Martes 22de Junio 5 - 6 pm 5ª Avenida Gazebo
Apropiado para niños, familias y adultos
Copatrocinado por la Bradley Beach Library & The Bradley Beach Business Community Association
bradleybeachbca@gmail.com

No registration necessary. This event is outside at the 5th Avenue Gazebo.