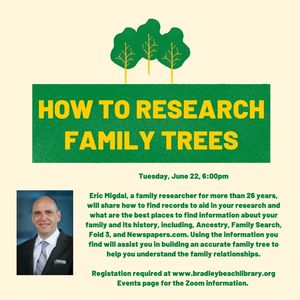 Bradley Beach Public Library
Tuesday, Jun. 22, 6:00pm
Tuesday, June 22, 6:00pm
Eric Migdal, a family researcher for more than 26 years, will share how to find records to aid in your research and what are the best places to find information about your family and its history, including, Ancestry, Family Search, Fold 3, and Newspapers.com. Using the information you find will assist you in building an accurate family tree to help you understand the family relationships.
Registation required at www.bradleybeachlibrary.org Events page for the Zoom information.