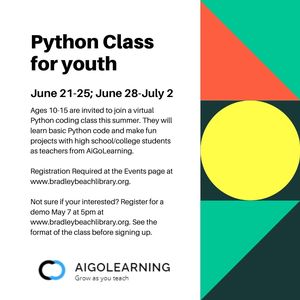 Bradley Beach Public Library
Friday, Jul. 2,
Dates: June 21-25; June 28-July 2

Ages 10-15 are invited to join a virtual Python coding class this summer. They will learn basic Python code and make fun projects with high school/college students as teachers from AiGoLearning.

Registration Required at the Events page at www.bradleybeachlibrary.org.

Not sure if your interested? Register for a demo May 7 at 5pm at www.bradleybeachlibrary.org. See the format of the class before signing up.