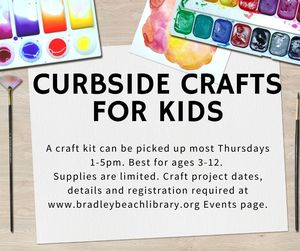 Bradley Beach Public Library
Thursday, May 6, 1-7p
May 6: Fiesta Mosaic
A craft kit can be picked up most Thursdays 1-7pm. Best for ages 3-12.
Supplies are limited. Craft project details and registration required at www.bradleybeachlibrary.org Events page.
6 de mayo: Fiesta Mosaic
Se puede recoger un kit de arte de los jueves de 1 a 7 pm. Ideal para niños de 3-12 años.
Los suministros son limitados. Se requiere registro y detalles del proyecto de artesanía en la página de eventos www.bradleybeachlibrary.org.