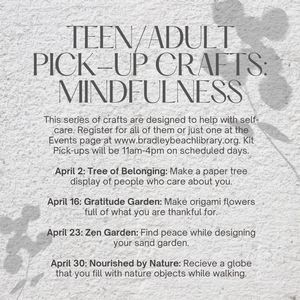 Bradley Beach Public Library
Friday, Apr. 2, 11-4
This series of crafts are designed to help with self-care. Register for all of them or just one at the Events page at www.bradleybeachlibrary.org. Kit Pick-ups will be 11am-4pm on scheduled days.
April 2: Tree of Belonging: Make a paper tree display of people who care about you.
April 16: Gratitude Garden: Make origami flowers full of what you are thankful for.
April 23: Zen Garden: Find peace while designing your sand garden.
April 30: Nourished by Nature: Recieve a globe that you fill with nature objects while walking.