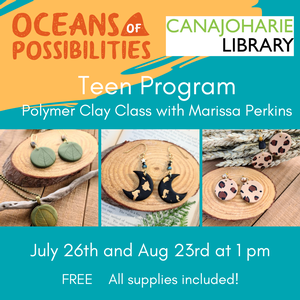 2 Erie Blvd. Canajoharie
Tuesday, Aug. 23, 1pm
Join us at the Canajoharie Library and Arkell Museum on 7/26 and 8/ 23 at 1 pm as artist Marissa Perkins teaches teens the fun art of making things out of polymer clay.

Perkins is a multifaceted artist with a thriving business in metalworking and jewelry making.
She is a talented arts educator with years of experience teaching diverse audiences.

This program is for teens.
The program is FREE and all supplies are included.
Registration Requested.