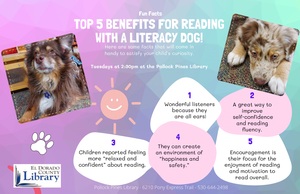 PP - Literacy Dog
Tuesday, Jan. 24, 2:30-3:30
Meet Josie Wales and Teka.
Benefits for reading with a literacy dog!
1. Wonderful listeners.
2. A great way to improve self-confidence and reading fluency.
3. Children reported feeling more relaxed and confident about reading.
4. Dogs can create an environment of happiness and safety.
5. Dogs are focused for their enjoyment and create motivation to read overall.