F E A T U R E D E V E N T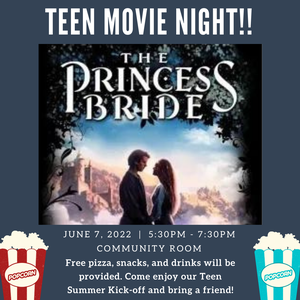 CP - Teen Movie Night - The Princess Bride
Cameron Park Library
Tuesday, Jun. 7, 5:30pm
Ages 13-18
Join us for an awesome kick-off to the summer - with a Princess Bride movie night on the evening of June 7th, at 5:30pm! There will be free pizza. snacks & drinks. Bring a friend! As you wish...
Sign up for the Summer Reading Challenge:
Read Beyond the Beaten Path!
Sponsored by The Friends of the Cameron Park Library.