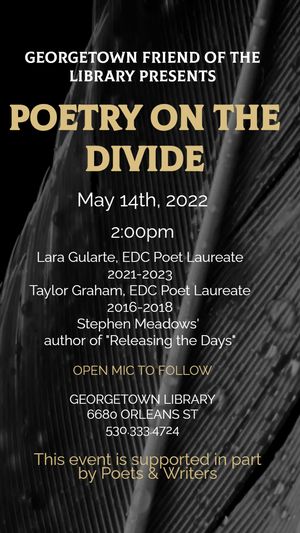 GT- Poetry on the Divide
Georgetown Library
Saturday, May 14, 2:00 pm
The Georgetown Friends of the Library invites you to a day of "Poetry on the Divide" on Saturday, May 14th at 2:00 pm. Join 3 acclaimed El Dorado county Poets for a poetry reading and conversation followed by an open mic session where you are invited to bring your own poetry and read for us!
The poets we are honored to welcome are Lara Gularte, EDC Poet Laureate 2021-2023, Taylor Graham, EDC Poet Laureate 2016-2018 and Stephen Meadows' whose work has been published in many journals and anthologies as well as his own book of poetry. He is also a local KFOK broadcaster.
This event is supported in part by Poets & Writers.
Sponsored by Georgetown Friends of the Library and Poets & Writers.