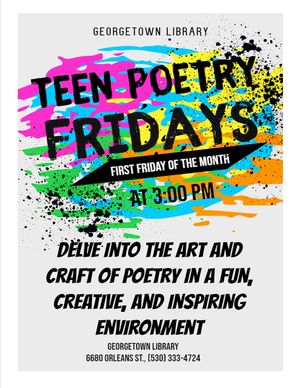 GT- Teen Poetry Friday
Georgetown Library
Friday, Jun. 3, 3:00 pm
The Georgetown Library it excited to announce Teen Poetry Friday the first Friday of each month starting April 1st at 3:00 pm. Join published poet Stephen Meadows in guided exercises that will help you delve into the art and craft of poetry in a fun, creative and inspiring environment.
Stephen Meadows is a Californian of pioneer and Ohlone descent. His poems have appeared in anthologies and journals nationwide. He has devoted much of his life to poetry, in an attempt to honor his ancestors and the beauty of the natural world. He is also the host of 'Meadows Road' radio show on KFOK.
Sponsored by Georgetown Friends of the Library.