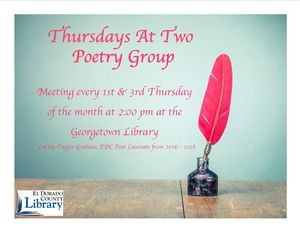 GT- Thursdays at Two Poetry Group
Georgetown Library
Thursday, Nov. 4, 2:00 pm
New event! A poetry group called Thursdays at Two meets every 1st & 3rd Thursday at 2:00 here at the library. Patterned after the popular Placerville group, Tuesdays at Two, the Georgetown Library version
will be led by Taylor Graham, EDC Poet Laureate from 2016 - 2018. If you love poetry, write poetry, or dream about writing poetry, this group is for you! Assigned subjects will be offered to write poems about and then the poems are brought back to the group. This is not really a critique process but reading poems aloud to the group is a good way to hear what's working and what isn't.
Participants also read from a list of established poets or bring poetry to share. There is also a 'word can'. Everyone pulls a word or phrase from the can and then uses them to write a poem in 10-15 minutes. This produces some strange and wild stuff and a lot of laughter!!!!
Sponsored by Georgetown Friends of the Library.