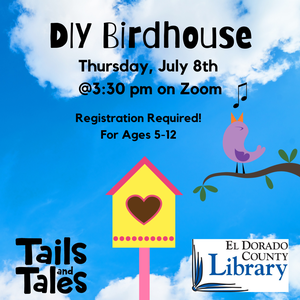 SRC - D.I.Y. Birdhouses (Zoom)
All Locations
Thursday, Jul. 8, 3:30 pm
D.I.Y Birdhouses on Zoom
Thursday, July 8th at 3:30 pm
Join us on Zoom to learn about native birds and paint your own decorative birdhouse.
Registration required. Ages 5-12

This project is supported in whole or in part by the U.S. Institute of Museum and Library Services under the provisions of the Library Services and Technology Act, administered in California by the State Librarian.