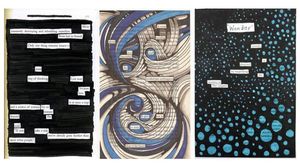 EDH - Blackout Poetry for Adults (Zoom, registration required)
El Dorado Hills Library
Thursday, Jul. 1, 6:00 pm
Registration required, begins Jun 16.
Create new art out of old books! We'll meet on Zoom to show our finished pieces. After the Zoom meeting, turn in your finished poem to the library to be put on display. You can pick up your poem on August 6.

All participants will be entered into a prize drawing!

STEP 1: Cut out a page from an old book, magazine, or another page of text that you don't need anymore. Grabbing something that was headed for the recycle bin is a perfect choice. If you don't have any text to work with, books will be available at the EDH Library circulation desk starting June 17.

STEP 2: Use a marker to black out the words you don't want in your poem, keeping the words visible that you do want to use. Continue blacking out words until your poem is complete.
You can keep it traditional, using a black marker for your blackout poem, or you can get super creative with it. Try using glitter glue, doodles, washi tape, or any other fun materials you have on hand to express yourself. You can even transform the entire page into a work of art!

REMEMBER: You can go with the flow, blacking out everything except what feels right as you read through the page. Or, you can make more of a plan, writing your poem out on scrap paper before you commit to a final version. Whatever works best for you creatively!

The only rule to remember is the content must be appropriate for a wide range of readers. If you let us display your poem at the library or join us on Zoom and then it will be heard and seen by people of all ages.