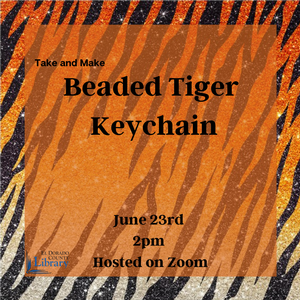 SRC- Take and Make: Beaded Tiger Keychain
All Locations
Wednesday, Jun. 23, 2:00 pm
Join Ms. Dorothy on Zoom to make a beaded tiger keychain! Supplies will be provided by the library. The library will contact you about supply pick-up.

This event is for kids in 1st-5th grade.

Please be aware that the Cameron Park branch will be closed from June 14th to June 30th and pick up of supplies will be unavailable at that branch during this time frame.

Sponsored by Cameron Park Library.