https://www.portlandlibraryct.org/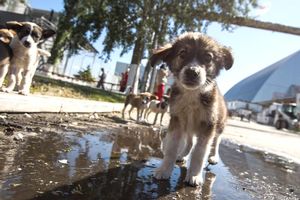 Zoom
Tuesday, May 17, 6:30pm
Tuesday May 17th at 6:30pm Zoom


The Dogs of Chernobyl, a Story of Hope & Resilience
35 years after the nuclear accident Stephen Quandt went to Chernobyl to participate in a spay/neuter and research campaign for the dogs that were descended from the pets left behind after the nuclear plant disaster of 1986.
With many personally shot photos and videos, he will tell the story of meeting the inhabitants of the mostly abandoned town of Chernobyl City (you will meet 2 squatters, one a hero of the disaster), the totally abandoned city of Pripyat and the dogs (and some cats!) that he encountered. Feline Behaviorist, Stephen Quandt, most recently the Feline Behavior Coordinator for the Animal Care Centers of NYC (nycacc.org) and of the ASPCA.org has worked in animal welfare since 2002 and has created this webinar based on his experiences in the Exclusion Zone around the Chernobyl nuclear power plant. He recently gave a webinar on cat behavior called Decoding the Mysteries of Cats, or Why Cats Do What They Do at the Portland library and it was very well received.
Registration Required.
A link will be mailed to you a few days before the event.
Sponsored by Library.