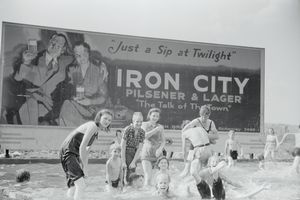 An Alternative History of Pittsburgh
Online
Wednesday, Oct. 27, 7:00-8:00
Join author, Ed Simon for this virtual program (via Zoom). The land surrounding the confluence of the Allegheny, Monongahela, and Ohio rivers has supported communities of humans for millennia. In the past four centuries, however, it has been transformed utterly and many times over by the people who call it home. In this brief, lyrical, idiosyncratic and best-selling new book, Ed Simon follows the story of America's furnace through a series of interconnected segments, covering all manner of Pittsburgh-beloved people, places, and things.

Ed Simon is a staff writer for The Millions and a contributing editor for the History News Network. He is the author of several books, most recently Pandemonium: A Visual History of Demonology and The God Beat: What Journalism Says about Religion and Why it Matters. His essays have appeared in The Atlantic, The Paris Review Daily, The Washington Post, Newsweek, Poetry, McSweeney's, Aeon, Jacobin, Salon, The New Republic, and The New York Times among dozens of others. A native of Pittsburgh, he currently lives in Washington DC.

Register online! You'll receive the unique Zoom link to participate in the regitrastration confirmation email!