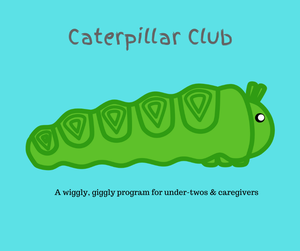 Caterpillar Club - Sharpsburg
CSCL Sharpsburg Branch
Tuesday, Jun. 15, 10:30-11:00 (Tuesdays, 10:30-11:00)
Come outside to the courtyard with Ms. Sara for a wiggly, giggly program for children 0-2 and their caregivers! We'll share stories, songs, and fingerplays to build literacy skills with our youngest ibrary friends!

Masks are required for caregivers and anyone over age 2. We recommend bringing a towel or blanket to sit on.

Limit 10 child/caregiver pairs per session. Registration strongly recommended.

This is an outdoor program and will be canceled if there is inclement weather. Check the weather forecast or call the library for confirmation.

This program occurs before library hours. Please go directly to the courtyard. Gates open 15 minutes before start time.