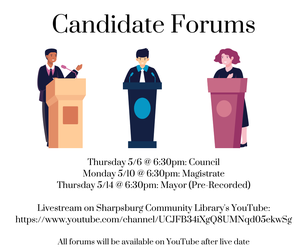 District Magistrate Candidate Forum
Online
Monday, May 10, 6:30-8:00
Learn where the candidates for District Magistrate stand on the issues during this 90 minute candidate forum. Questions will be asked from resident submissions and facilitator created questions.
Candidates Include:
Jessica Lynch
Matt Rudzki
Megan Sasinoski
Dave Turner
Barry Wingard
The event will be livestreamed on YouTube:
https://www.youtube.com/channel/UCJFB34iXgQ8UMNqd05ekwSg
A YouTube recording of the forum will be available later in the week of 5/10. Anyone without computer or internet access will be able to view the recording at the library during operating hours.