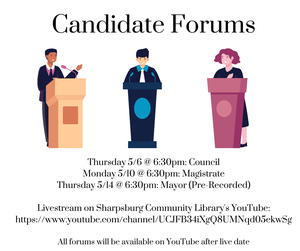 Sharpsburg Borough Council Candidate Forum
Online
Thursday, May 6, 6:30-8:00
Learn where the candidates for Sharpsburg Borough Council stand on the issues during this 90 minute candidate forum. Questions will be asked from resident submissions and facilitator created questions.
Candidates include:
Sarah Ishman
Brian Kozera
Karen Pastor
Taylor Pecze
Kayla Portis
Carrie Tongarm
Brad Truman
The forum will be livestreamed on YouTube:
https://www.youtube.com/channel/UCJFB34iXgQ8UMNqd05ekwSg
Live captions will be enabled.
A YouTube recording of the forum will be available the week of 5/10. Anyone without computer or internet access will be able to view at the library once the recording is available.