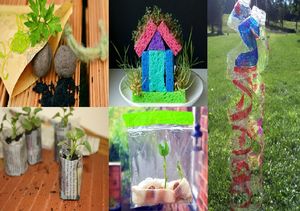 Climate Conscious: Kids' Take-n-Make Kits - Sharpsburg
CSCL Sharpsburg Branch
Thursday, Apr. 8, 4:30-6:00 (Thursdays, 4:30)
We're packaging up everything you need to complete a STEAM activity! Stop by the library every week for a new kit. Depending on the size, they may be taped to the parking lot window or you may have to ask for one curbside. Activities are geared for students in K-5.
4/1: Seed Balls
4/8: Sprout House
4/15: Plastic Bottle Sun Catcher
4/22: Newsprint Seed Starting Pot
4/29: Grow Beans in a Baggie
All kits include instructions. You can also watch the weekly episode of STEAM @ Home on YouTube and follow along with Ms. Erin. 20 kits available each week while supplies last, beginning at 4:30 each Thursday.
This program is part of a 2021 Climate Conscious Series sponsored by
The Fox Chapel Garden Club!