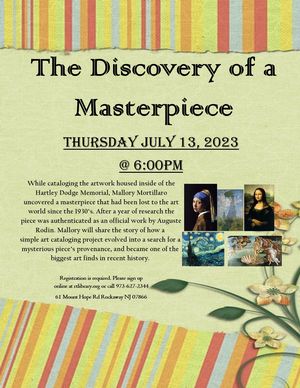 Adult Program: The Discovery of a Masterpeice
Main Library
Thursday, Jul. 13, 6:00-7:30PM
While cataloging the artwork housed inside of the Hartley Dodge Memorial, Mallory Mortillaro
uncovered a masterpiece that had been lost to the art world since the 1930's. After a year of research the piece was authenticated as an official work by Auguste
Rodin. Mallory will share the story of how a
simple art cataloging project evolved into a search for a mysterious piece's provenance, and became one of the
biggest art finds in recent history.
Registration is required.