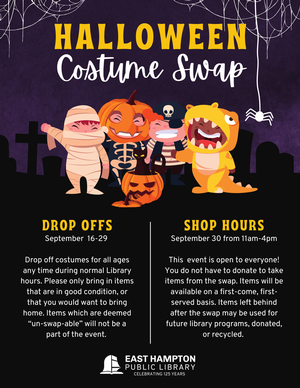 Saturday, Sep. 30, 11:00am-4:00pm
Clean out your closets, get a great new costume, save money, and save the planet by participating in our community Costume Swap!
Costume drop offs will take place from September 16 - September 29 any time during normal Library hours. Please only bring in items that are in good condition, or that you would want to bring home. Items which are deemed "un-swap-able" will not be a part of the event.
Costume shopping will take place on September 30 from 11am-4pm. This event is open to everyone! You do not have to donate to take items from the swap. Items will be available on a first-come, first-served basis. Items left behind after the swap may be used for future library programs, donated, or recycled.
Sponsored by East Hampton Public Library.