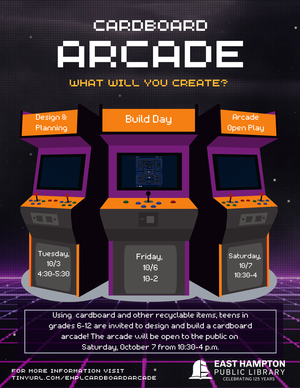 Tuesday, Oct. 3, 4:30-5:30pm
Using cardboard and other recyclable items, teens in grades 6-12 will design, construct, and test their creativity by building arcade games! Once the arcade is constructed, the community will be invited to come play!
Design & Planning: Tuesday, October 3 4:30-6:30 p.m.
Build Day: Friday, October 6 10 a.m. to 2 p.m.
Arcade Open Play: Saturday, October 7 10-4:30 p.m.