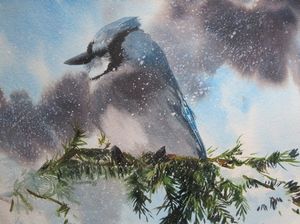 Tuesday, Nov. 29, 6:00 p.m.
Watercolor artist and author Bivenne Staiger will demonstrate her techniques, with focus on achieving contrast through light.

Creator of vibrant wildlife and floral paintings, Bivenne Staiger is the recipient of many prestigious awards for her work in watercolor. She was a featured artist in Watercolor Artist magazine's Jan/Feb 2020 issue, is the author of White! Light! Bright! How to Make Your Backgrounds Support and Enhance Your Watercolor Painitngs, and writes a blog at https://bivennesartblog.wordpress.com. She offers classes, workshops, and demonstrations in watercolor throughout the southern New England region and has been sharing her love for watercolor for over 20 years.