Library Programs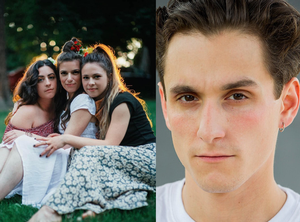 Shorts Out Loud: Hold on Honeys & Ethan Botwick - CANCELED
Thursday, Jul. 27, 6:00 p.m.
[CANCELED DUE TO HEAT IN THE BUILDING] Join the library for the penultimate session of our annual Shorts Out Loud series! This special program is one that the library hosts each year. We have changed the format *slightly* and each evening will now consist of 30 minutes of live music followed by 30 minutes of poetry or short stories read aloud.

For July 27, we are pleased to welcome Hold on Honeys, an Indie folk minimalist vocal trio from Troy, NY made up of Emily Curro, Raya Malcolm & Shannon Rafferty. Ever since their first live performance at Troy Foundry Theatre in June 2021, Hold On Honeys have been captivating the Capital Region's attention with their warm vocal harmonies.

Our reader for the evening is actor Ethan Botwick, a New Jersey native, and a graduate of Russell Sage College in Troy New York. Ethan serves as Associate Artistic Director of Troy Foundry Theatre. Recent credits include "A Midsummer Night's Dream," (Capital Repertory Theatre) "City of Myth: Ilium Sings," "Catastrophe Carnival: A Night Of Becket Shorts" (Troy Foundry Theatre), "Yellow," "The Prohibition Project: Ilium Was and La Ronde" (Troy Foundry Theatre/Die-Cast), "Proof" (Old Castle Theatre), "Romeo & Juliet" and "As You Like It" (Saratoga Shakespeare Company) and "Julius Caesar" (The Public Theater). Films include "Super Dark Times" and "Highwaymen" from Troy's own Chromoscope Pictures.

This program is free and open to the public. No registration required.