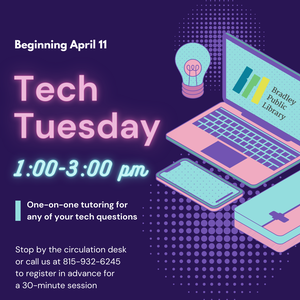 Bradley Public Library
Tuesday, Jun. 6, 1:00 - 3:00 pm
Do you have questions about using a computer or a smartphone? Would you benefit from having a one-on-one tutor who will take the time to show you the answers to your questions? If you answered yes, then we have just the program for you...

Beginning on April 11th, every Tuesday is Tech Tuesday at the Bradley Public Library! You may register in advance for one 30-minute session by visiting the circulation desk or by calling us at 815-932-6245.

Each person is limited to one 30-minute session per week. When registering, please let us know what you're hoping to learn. If applicable, bring your laptop or smartphone to your appointment.

Tutoring sessions will be in one of our meeting rooms or on our public computers. You don't need to have your own computer. This is a free program!

Some examples of things you may learn on Tech Tuesday include, but aren't limited to: familiarizing yourself with computers so you can use them confidently on your own, using social media, utilizing specific programs such as Microsoft Word or photo editing programs, using your smartphone to access apps, connecting your smartphone to a Bluetooth speaker, and using your tablet to write emails. Bring your specific questions, and we'll get you going!