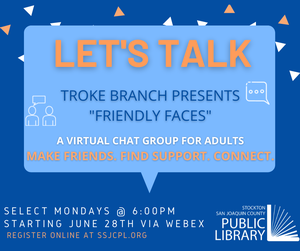 Friendly Faces Chat Group for Adults (Virtual @ Troke)
Troke Branch Library
Monday, Jun. 28, 6:00pm to 7:00pm (Select Mondays, June 28, July 12, August 9 & 23, 6 p.m.)
Welcome to Friendly Faces, a chat group to find support, make connections, and meet new people! Held virtually via WebEx, on select Mondays from 6:00-7:00pm.

Please note we will not hold Friendly Faces on observed holidays.


For adults only. Advance registration required (this is how you will receive the WebEx link). Limited to 12 participants to allow everyone a chance to speak and respond.