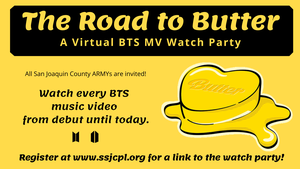 The Road to Butter: A Virtual BTS MV Watch Party!
All Locations
Thursday, May 20, 6:00pm

All San Joaquin County ARMYs are invited to our virtual BTS watch party on May 20, 2021 at 6:00pm!

We'll be watching every BTS comeback trailer and music video from debut until today! The watch party will end after the 9pm world premiere of the Butter music video. Text, voice, and video chat available.
Register to receive the watch party link. ARMYs under 13 must be accompanied by a parent or guardian.