Oxford County Library
Oxford County Library branch programs and events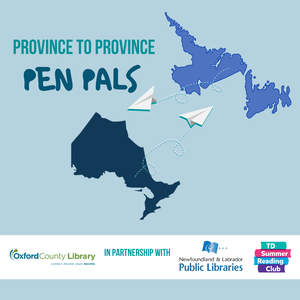 Summer Reading Club-Province to Province Pen Pals Registration
All Locations
Wednesday, May 18,
For the Summer Reading Club we are excited to be partnering with a sister library, Newfoundland and Labrador Public Library (NLPL), to host a pen pals program. By registering, you will be matched with a pen pal to write about your favourite books, discuss hobbies, and form a friendship across Canada!
This program is open to ages 7-12.
Please register under the child's first and last name. If you would like to have multiple children participate, you must complete one registration per child.
The writing program begins June 8th
How it works:
Step 1-Registration: In registering, you commit to sending at least three digital letters by the following dates: June 15th, July 13th, and August 10th to your pen pal. Your second and third letter will be written in response to letters you will receive from your pen pal! Registration is due June 1st.
Step 2-Program Launch: You will receive an email from us on June 8th telling you about your matched pen pal and instructions on how to write your first letter.
Step 3-Write: You will write three letters over the summer due June 15th, July 13th, and August 10th and receive three letters. When it is your turn to write, we will email you writing prompts to inspire your letters. You will send a library staff member a typed or scanned letter with any art or pictures you want to share with your pen pal. Library staff will ensure its delivery to your pen pal. You will receive letters from your pen pal to the email indicated when registering.
Step 4-Tell us your feedback: We'd love to hear from you! We will send you a survey for you to share feedback on this program.
If you have any questions or need more information, please contact Holly Brown at hbrown@ocl.net