Oxford County Library
Oxford County Library branch programs and events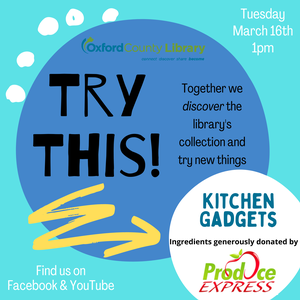 Try This! - Kitchen Gadgets
All Locations
Tuesday, Mar. 16, 1pm
Pre-Recorded Video - No Registration Required

Have you ever wanted to try something new but didn't know where to start? Our library collection has hundreds of hobby books to discover for all ages, skill levels, and those of us that just want to try something new!

For this video, we are discovering kitchen gadgets from OCL's Kitchen Lending Library. Our gadget exploration includes adventures in air frying, a spiralizer, dehydrator, cupcake maker, juicer, pizza maker, and more handy tools to assist even the most beginner chefs in the kitchen! Thank you to produce express for generously donating ingredients!