Oxford County Library
Oxford County Library branch programs and events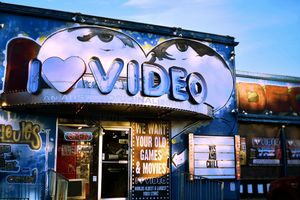 Movie Buffs Oxford
All Locations
Tuesday, Apr. 27, 7:00 pm
Movie lovers unite!
Grab some popcorn and watch one or more of the recommended movies from the library's digital and physical collection then join in a fun monthly discussion sparked by the film.
Watch some or all of the suggested movies then join us on a Zoom call to participate in a conversation.
We meet the last Tuesday of each month.
April movies are available through
Kanopy
digital movie collection. If you need assistance accessing Kanopy please contact your local branch.
April movies celebrate Canadian films for National Film Day.
Werewolf
Blaise and Nessa are outcast methadone users in their small town. Each day they push a rusty lawnmower door-to-door begging to cut grass. Nessa plots an escape, while Blaise lingers closer to collapse. Tethered to one another, their getaway dreams are kept on a suffocatingly short leash.
Nominated for Best Canadian Feature Film at theToronto International Film Festival. Official Selection at the Berlin International Film Festival.
"By means of ferociously intimate images, tensely controlled performances, and a spare sense of drama, Ashley McKenzie's first feature, about two young drug addicts in Nova Scotia, conjures a state of heightened consciousness." - Richard Brody, New Yorker

Iqaluit

Carmen, a Northern worker's wife, travels to Iqaluit for the first time to the bedside of Gilles, her gravely injured husband. Trying to find out what happened, she grows closer to Noah, an Inuk friend of Gilles, and understands that their dramas are intertwined. They leave for the land around Frobisher Bay: Carmen is seeking answers, and Noah wants to prevent his son from committing an irreparable act.
Nominated for Best Film at the American Indian Film Festival.

Weirdos

Nova Scotia. 1976. The weekend of the American Bicentennial. When 15-year-old Kit decides that living with his father is too repressive, he hits the road to move in with his mother. Accompanied by his girlfriend Alice, Kit will explore his very core - his sexuality, his sense of place and self - in an attempt to find a place to call home.
Nominated for the Best Film in the Generation 14plus competition at the Berlin International Film Festival. Nominated for Best Canadian Feature Film at the Toronto International Film Festival. Winner of Performance by an Actress in a Supporting Role and Best Screenplay at the Canadian Screen Awards.
"A lovely, low-key memory piece, vibrant with the awkward grace of adolescence." - Sheri Linden, Hollywood Reporter
"The young leads are charming and authentic, and the film reminds us all to embrace our own weirdness." - Brent McKnight, Seattle Times

Roadkill

Ramona works in a concert agency and is sent after the rock band 'Children of Paradise' who have disappeared. Since she can't drive, she has to take the train and bus and eventually hitchhike. On her way through the Canadian back country she meets the weirdest people - and learns to drive.
Winner of Best Canadian Feature Film at the 1989 Toronto International Film Festival.
"Roadkill was the first film to flush the institutional mentality out of English-Canadian cinema and became the starting point in a continuing revelation of the Canadian self." - Katherine Monk, Ex-Press.com