Oxford County Library
Oxford County Library branch programs and events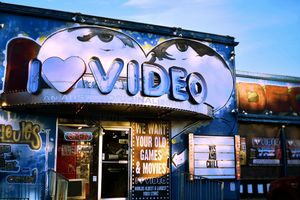 Movie Buffs Oxford
All Locations
Tuesday, Mar. 30
Movie lovers unite!
Grab some popcorn and watch one or more of the recommended movies from the library's digital and physical collection then join in a fun monthly discussion sparked by the film.
Watch some or all of the suggested movies then join us on a Zoom call to participate in a conversation.
We meet the last Tuesday of each month.
March movies are available through
Kanopy
digital movie collection. If you need assistance accessing Kanopy please contact your local branch.
March Movies are connected with theme of Earth Day and Water
Life Off Grid
A two-year journey exploring the lives of Canadians in every province and territory who have made the choice to disconnect. LIFE OFF GRID is a film about people who have chosen to build their lives around renewable energy, with beautiful, inspiring, and often challenging results.
Riverblue
This film spans the globe to infiltrate one of the world's most pollutive industries, fashion. Blue Jeans, one of our favorite iconic products has destroyed rivers and impacted the lives of people who count on these waterways for their survival.
Following international river conservationist, Mark Angelo and narrated by clean water supporter Jason Priestley, this RIVERBLUE examines the destruction of our rivers, its effect on humanity, and the solutions that inspire hope for a sustainable future.
Winner of Best Documentary Feature at the Raindance Film Festival.
The Cloud Forest
Sometimes, ordinary people can create extraordinary positive change. The people of a small community in Veracruz are the guardians of one of the ecosystems facing the most risk in the country: the cloud forest. Hoping to save their sacred and fog-laden land, they work for a simpler and sustainable life. Sixteen families redesign their needs, food, education and relationship with other people and with nature. They create an entirely self-sustaining and independent society. THE CLOUD FOREST weaves this community's singular quest with gorgeous scenes of their endangered surroundings.
The Shape Of Water
An award-winning, intimate encounter with five very different women in Brazil, India, Jerusalem, and Senegal, THE SHAPE OF WATER offers a close look at the far-reaching and vibrant alternatives crafted by women in response to environmental degradation, archaic traditions, lack of economic independence, and war. Narrated by Susan Sarandon with introductory narration co-written by Edwidge Danticat.
Winner of Best Feature Documentary at Reel Sisters of the Diaspora. Winner of the World Cinema Award at the DC Independent Film Festival. Winner of Best Doirector, Documentary at the San Francisco Women's Film Festival. Official Selection at the Santa Barbara Film Festival.
"...Environmental destruction, warfare, poverty and culturally sanctioned violence against women do not usually inspire hope, but author and academic Kum-Kum Bhavnani's exploration of women activists confronting these issues does exactly that." - Jenny Hahn, Ms. Magazine