Oxford County Library
Oxford County Library branch programs and events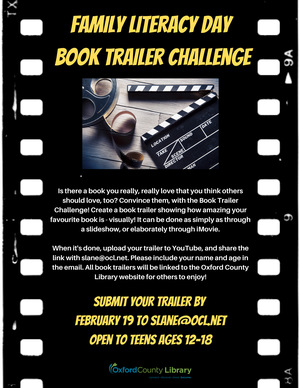 Teen Book Trailer Challenge
All Locations
Friday, Feb. 12,
Is there a book you really, really love that you think others should love, too? Convince them, with the Book Trailer Challenge! Create a book trailer showing how amazing your favourite book is - visually! It can be done as simply as through a slideshow, or elaborately through iMovie.

When it's done, upload your trailer to YouTube, and share the link with slane@ocl.net. Please include your name and age in the email. All book trailers will be linked to the Oxford County Library website for others to enjoy!

The Book Trailer Challenge runs from January 27 to February 19, and is open to teens ages 12 through 18 years.