Oxford County Library
Oxford County Library branch programs and events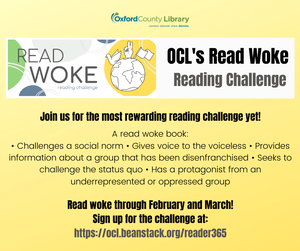 Read Woke Reading Challenge
All Locations
Monday, Mar. 29,
Join us for the most rewarding reading challenge yet, the Read Woke Reading Challenge!
A read woke book:
• Challenges a social norm • Gives voice to the voiceless • Provides information about a group that has been disenfranchised • Seeks to challenge the status quo • Has a protagonist from an underrepresented or oppressed group
Read Woke from February 1 through March 31
! Open to children, teens, and adults.
Need help figuring out what to read for the challenge? Booklists and recommendations are available on the Beanstack site after you have registered!
Sign up for this exciting challenge at: https://ocl.beanstack.org/reader365