F E A T U R E D E V E N T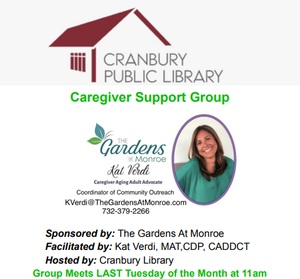 Cranbury Public Library
Wednesday, May 17, 10:15am
There are different types of caregivers and ALL are welcomed. This is a judgment free safe place to share, to learn and/or to just listen. It's a place of love, empathy and respect. It is a place to share the triumphs, the challenges, the disappointments, the accomplishments or simply a place to vent and reset ourselves so we can carry on one day at a time. Stress - free, safe environment respectful of everybody's level of comfort and pace of engagement.

Kat welcomes you with open arms! Kat Verdi is a Certified Alzheimer's and Dementia Care Trainer. She serves as a sound referral resource for anyone caring for a loved one. Her mission are the "3E's" - to Educate, Empower and Encourage caregivers.

This support group will take place in Meeting Room 3.