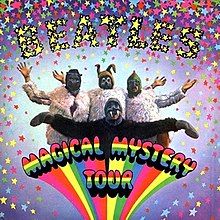 The Beatles: The Making of Magical Mystery Tour - VIRTUAL
ZOOM
Monday, May 17, 7:00p.m.
Vinnie Bruno will take us on a journey with The Beatles as they embark on a mystery bus trip with a group of people looking to experience "strange and magical happenings" as they travel through the English countryside and France. The Beatles will improvise and take advantage of the various encounters they had while on the road. We will explore how the project was conceived along with the improvised scenes from the film. In addition, we will discuss the genesis of how the songs from the soundtrack were written, recorded and produced.

​Vinnie is a Beatles Scholar and Sixties Rock Historian. He is recently retired as Director of First Year Programs at LaGuardia Community College (City University of New York). He holds an MPA from Baruch College and as an adjunct professor for 25 years he taught courses in numerous disciplines including Humanities, Business and Mathematics.
​
As a Beatles scholar and storyteller, he looks to both embrace not just their legacy but to present an entertaining, interactive, and informative session for both the casual listener as well as the hard core Beatles fan. As a 60's Rock Historian he offers programs on the many extraordinary innovative artists who defined an era by creating musical landscapes that captivated a generation and whose influence in popular culture still endures five decades later.


This program will be held via Zoom. You will receive Zoom instructions and online meeting information in your registration confirmation email in addition to a reminder email prior to the date of the program.



Sponsored by Co-Sponsored by The Adult School and Friends of Madison Public Library.