Brainerd Memorial Library
Join us for upcoming events, classes and programs at Brainerd Memorial Library! All events are free and open to the public. Registration required where noted.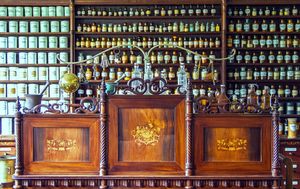 Monday, Nov. 1, 7pm
Join us for an evening of diabolical concoctions with the Stabler-Leadbeater Apothecary Museum. Some of these mixtures and compounds may be familiar from murder-mysteries, while others may surprise you. Learn about historical poisons in their collection during this Zoom presentation, which includes a virtual tour of the historic apothecary, and a deeper dive into collection items connected to plant-based medicines and poisons.
The Stabler-Leadbeater Apothecary Museum in Alexandria, Virginia is noted for its outstanding collection of medicinal herbs, shop furnishings, and apothecary bottles and equipment. Most of its collection is original to the 141-year-old family business, reflecting how medicine, the business, and Alexandria changed through the centuries.

Please register for this program to receive the Zoom link by going to our website, www.brainerdlibrary.lioninc.org.