Join us for upcoming events, classes and programs at Mahomet Public Library! All events are free and open to the public. Registration required where noted.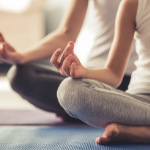 Saturday, Sep. 25, 9:15am
Join us as Instructor Colleen Crawford leads us through 45 minute yoga sessions on Saturdays in September.

These sessions are appropriate for anyone, even if you have little or no experience with yoga! We'll begin with a thorough warmup and then build the intensity gradually, exploring postures several times while working up to the complete flow. Colleen will present options for various poses, allowing participants to discover which versions work best for them.

Participants should bring their own yoga mats.

Participants at in-person library programs must follow the library's COVID-19 policies, including those related to masking and social distancing. These policies may change as guidance from local, state, and federal health agencies change, so check our website and library signage for current requirements.