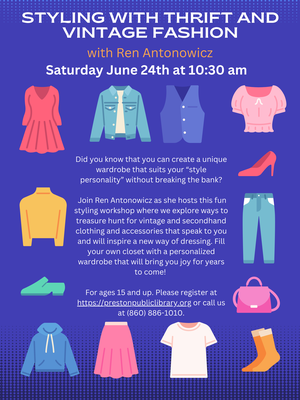 Saturday, Jun. 24, 10:30am
Saturday, June 24th, 10:30 am

Did you know that you can create a unique wardrobe that suits your "style personality" without breaking the bank? Join Ren Antonowicz as she hosts this fun styling workshop where we explore ways to treasure hunt for vintage and secondhand clothing and accessories that speak to you and will inspire a new way of dressing. Fill your own closet with a personalized wardrobe that will bring you joy for years to come! For ages 15 and up. Please register at https://prestonpubliclibrary.org or call us at (860) 886-1010.
Saturday, Jun. 24, 11:00 am - 12:00 pm
Saturday June 24th 11:00 am-12:00 pm

Xen's Critters will be here this Saturday with her adorable bunnies for you to meet up close and personal! Enjoy this bunny petting zoo while learning about these adorable animals! For all ages and abilities. No registration required.