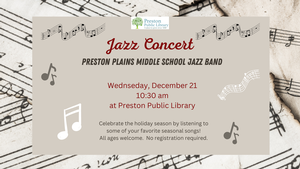 Wednesday, Dec. 21, 10:30am
Celebrate the holiday season with Preston Plains Middle School Jazz Band as they perform favorite songs! This concert is free and open to all ages! No registration required.
Sponsored by Preston Plains Middle School.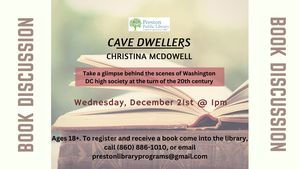 Wednesday, Dec. 21, 1:00pm
Join us on the third Wednesday of each month for a lively discussion on a variety of fiction and non-fiction! This month's book, Cave Dwellers by Christina McDowell, gives readers a glimpse into the scenes behind high society Washington D.C. at the turn of the 20th century. For ages 18 and up: to register and receive a book come into the library, call us at (860) 886-1010, or email us at prestonlibraryprograms@gmail.com.