Join us for upcoming events, classes and programs at Madison Public Library! All events are free and open to the public. Registration required where noted.
39 Keep Street
Saturday, Jun. 29, 11:00am
Into Pokémon GO? Come battle in an official Silph Arena Player-Versus-Player tournament, June 29th at 11am in the Taber Room! This month's theme: The Rainbow Cup! Only Fire, Electric, Bug, Grass, and Water type Pokémon under 1500 CP from the Kanto and Johto regions are allowed! This means that any Pokémon not in the first or second generation are NOT permitted. All ages, and skills are welcome! No entrance fee.
Register here:
https://silph.gg/t/rcea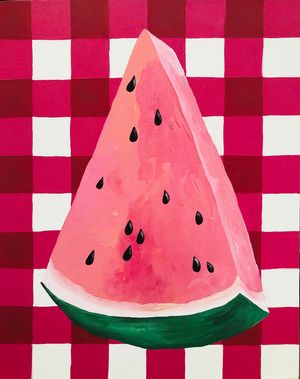 39 Keep Street
Tuesday, Aug. 6, 4:00 pm
Taste of Summer
A juicy watermelon at a picnic is the epitome of summer. Create an acrylic painting of this notion with the step by step guidance of artist, Erica Engfer Pizza. Please wear clothes for painting or bring a smock.

Erica Pizza is a practicing mixed media artist whose work can be seen in galleries around New Jersey. She is also a proud high school art teacher who specializes in painting, ceramics, and portfolio preparation for students who plan to pursue a career in art. Erica is grateful to be able to share her talent and expertise with students across the state. Her work can be viewed at www.ericaengferpizza.com.


39 Keep Street
Monday, Aug. 19, 7:00 pm
Spices give flavor, spices help preserve, spices offer cure; exotic spices have transformed our lives for sure.
A special gift from nature man traveled far to take; learn to cook chutneys that are so tasty and easy to make!
Join this workshop to find out what makes India the spice center of the world. It is true that the spice route brought many to India; however, as the Indian Diaspora has grown spices have started traveling throughout the world with them. See how this has created a plethora of fusion dishes influencing cuisines around the world and learn to cook chutneys that give the blandest of appetizers the much needed zing at a party!
Sponsored by Friends of the Madison Public Library.
39 Keep Street
Tuesday, Nov. 19, 7:00pm
More and more, U.S. teens are considering their options before jumping right from high school to college. Rather than simply choosing among colleges, many of today's high school seniors are also beginning to defer the college experience – usually for a year. This "Gap Year" – which has been a standard practice in the U.K. for years – is growing rapidly in popularity here in the U.S. Experience has shown that 90% of students taking a Gap Year will enroll in a four year college, and be more focused, mature and ready to embrace college learning. There are many types of Gap Year experiences. Some teens stay close to home. Some travel the world. Some combine work, service and travel. There is no formula for a "perfect" Gap Year. However, it is important for students to make thoughtful choices, so their experience helps them grow as citizens, develop their passions, and become better thinkers.

Katherine Stievater, a Gap Year Advisor and Founder of Gap Year Solutions will explain why Gap Years are growing in popularity and how any student can benefit from a Gap Year. She will explain different Gap Year options and the Gap Year planning process, including how it relates to college planning. This program is especially geared to high school juniors and seniors and their parents.