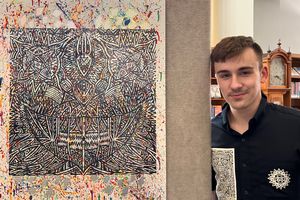 Wednesday, Sep. 28, 9 am - 5 pm
Location: Jacob Edwards Library
The Jacob Edwards Library is pleased to host an exhibit by contemporary abstract artist Sam Cloutier. The show is on view throughout the month. There is a meet and greet on Thursday, September 1st at 6:30 pm in the main hall. All welcome!

Hi! My name is Sam Cloutier, I'm 23 years old and I grew up in Sturbridge Massachusetts. I have been interested in ink drawing with pens and many other creative media that stem from it for a large part of my life now. My consistent experience in the sign and screen printing industry has been a large factor that shaped the way that I create my art. I am happy to present a choice selection of many of my favorite pieces of artwork.

Sam Cloutier is an Abstract Contemporary artist specializing in hand drawn mazelike linework with many hidden features transformed into small and large scale, symmetrical, multilayered, light reactive vinyl pieces.
Sponsored by Friends of Jacob Edwards Library.