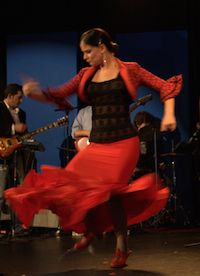 Thursday, Sep. 29, 6:30 pm-7:30 pm

Celebrating Hispanic Heritage Month! We welcome back Flamenco Boston who gave an outstanding performance on their last visit to the library. This is a free performance. All welcome!

ANTONIO "TIRITI" TRAN is an upcoming flamenco guitarist in the New England scene and has worked with Flamenco Boston since 2009. Antonio has studied music since the age of 12 and has studied in Spain in Granada, Jerez, Sevilla, Malaga, and Alhaurina El Grande. Antonio has also worked with modern dancers from the Boston area, and he was featured in Dave Glista's film, Revealing Space. Antonio has been featured regularly on television programs such as the Steve Katsos Show and All About the Arts. He is currently working on his first full length albu

Sponsored by Southbridge Cultural Council, a local agency which is supported by the Massachusetts Cultural Council, a state agency.