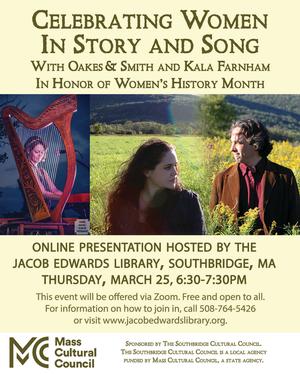 online
Thursday, Mar. 25, 6:30 pm
As part of its robust series of arts and cultural offerings, the Jacob Edwards Library is pleased to host singer/songwriters Oakes & Smith and Kala Farnham for an evening of story and song in celebration of Women's History Month. The performance will feature the artists' own original compositions, as well as songs and writings by acclaimed women artists. All are invited to attend this free online event, which will be offered over Zoom, sponsored by The Southbridge Cultural Council, a local agency funded by Mass Cultural Council, a state agency.

For information on how to join in, call 508-764-5426 or visit jacobedwardslibrary.org.

Berkshire-based husband-and-wife folk duo Oakes & Smith creates an ethereal sound not often heard in today's popular music. The couple evokes a soulful sense of wonder, expressing themes of love, creativity, mystery, and an appreciation of natural beauty. Said Kylee Colvin of The Levity Ball, "Oakes & Smith…bring a sense of calm an ease to the air...with songs so full of wisdom and true emotions." Their latest release, Between the Earth and the Sky, was mixed by Grammy-winning engineer Oz Fritz and features a performance by celebrated Yes vocalist Jon Anderson. The EP was on high rotation on Soul Traveler Radio, and critics have given it warm praise. Said Cody Conard of The Big Takeover magazine, "The duo's chemistry is well and clearly still in place, arguably more than ever before, because (this) is one of their best releases yet." And Anthony Avina of On Request magazine called it "emotional, heartfelt music that touches the soul." Annie Rew Shaw of Echoes and Dust said, "Katherine's vocals are so pure and clear, they almost crystallize in your head. Her voice...holds deep emotion and wisdom." For more information about Oakes & Smith, visit www.oakesandsmith.net.

Armed with a voice, an entourage of instruments, and faith in the power of story, Connecticutbased songstress Kala Farnham set out into the world with one vision: To inspire through the transformative power of musical storytelling. Farnham has garnered numerous awards and recognition, including 2019 Rose Garden Performing Songwriter Contest winner and alumni of the Johnny Mercer Songwriters Project. Farnham's recent album, a heartfelt account of adventure and homecoming titled Samadhi: Home Is Where You Are, was nominated for RI's Motif Music Awards "Best Americana Album", and hailed by Bill Copeland Music News as "soulful Americana" in "one of New England's best voices in one of this year's best written and best recorded works." Drawing from a classical education and professional career in musical theater, Kala presents hallmark reinvention of the folk tradition; her passion for fairytales, ancient history, and vivid storytelling draws her audience into imaginative re-creations of the familiar world. For more information about Kala Farnham, visit www.kalafarnham.com.



Sponsored by Southbridge Cultural Council.